OUR SAVIOR'S LUTHERAN CHURCH
EAST MESA AND GOLD CANYON
For love of the neighbor and for your safety, and in keeping with the recommendations of the CDC, local government, and our synodical Bishop, we are please to announce that effective immediately, verbal responses, prayer, and congregational singing are once again part of our in-person worship services!
During this time when some are fully vaccinated and some are not, there will be a seating area for those who are fully vaccinated, free from mask and distance requirements. There will also be a seating area for those who are not yet vaccinated, or who choose to retain mask wearing and social distancing practices. This will be on the honor system for each worshipper.  Weekly, recorded worship services from both campuses will still be posted on our worship page.
The church office at the Ellsworth is open 9 am – 3 pm. Our staff will remain diligently at work to provide spiritual care and support. Other ministries will continue in new ways. Please make sure the staff has your most current email address and cell phone number that we might be in touch and provide opportunities for spiritual growth during our time apart, on behalf of the neighbor.
Your fellow travelers into God's future,
Your pastoral staff

Weekends at East Mesa
612 South Ellsworth Road
Mesa, AZ 85208
Live, On-Site Worship
Saturdays at 4 pm
Sundays at 7:30, 9:00, & 10:30 am
Streamed LIVE at 10:30 am
and available for viewing afterwards
Sunday School at 10:30 am

Sundays at Gold Canyon
  5301 South Kings Ranch Road
Gold Canyon, AZ 85118
Live, On-Site Worship
Sundays at 9:00
Streamed LIVE at 9:00 am
and available for viewing afterwards
Celebrate the beginning of Sunday School! More details to come.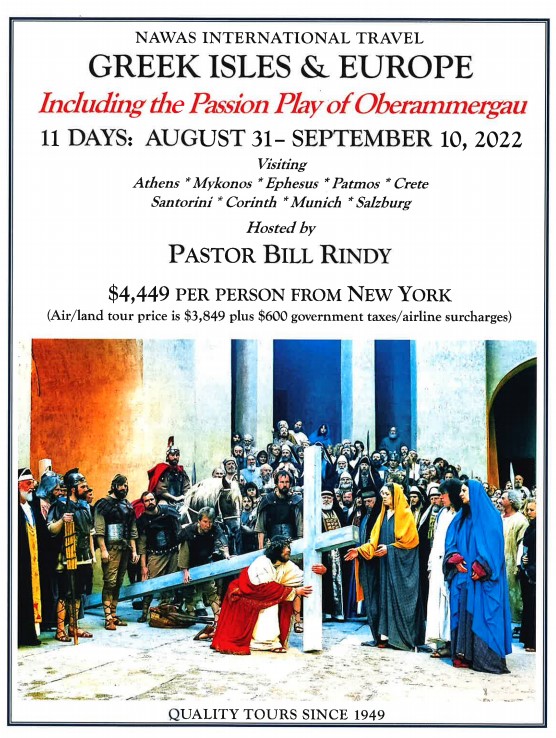 Oberammergau and Greek Isles
It is with great pleasure and excitement that we invite you to join us on our 11-Day Greek Isles and Europe tour! Highlights will include the opportunity to attend the world famous Passion Play in Oberammergau, Germany and experience some of the sites of the Apostles Paul's and John's ministry.
We look forward to having you join us on this trip of a lifetime. It promises to be a wonderful experience for all with time to enjoy the fellowship of old friends and new! While 2022 seems a long way away, now is the time to make plans and reserve your place on the tour as space is limited.
More Information:
Welcome to the East Valley!
As the Phoenix Metro Area has sprawled, Our Savior's has sought to meet the needs of our community and provide a place where people can worship, receive spiritual care, grow in their faith and enjoy Christian fellowship. With that mindset we have embraced the wisdom from Proverbs 29:18 which says, "Where there is no vision, the people perish." Over the history of this church it has become our mission to not only serve the community of East Mesa, but also Apache Junction and Gold Canyon. For more information on the history of our church, click here.
Two Campuses, One Congregation
As we are one congregation worshiping at two campuses, our pastoral staff rotate throughout our two campuses, providing a variety of preaching styles each week. We encourage you to take a look around our website to get a feel for our different areas and ministries.
With two campuses, we offer eight weekly worship services during the Winter season (November – April).
Gold Canyon
At the Gold Canyon campus, we offer a blended style of worship on Saturdays at 4:00pm, and Sundays at 7:30am, 9:00am and 10:30am. The worship services are a combination of traditional and contemporary worship. During the months of May-October, we offer a 9:00am service.
East Mesa
The worship schedule at our East Mesa Campus is the same year-round: Saturdays at 4:00pm, and Sundays at 7:30am, 9:00am, & 10:30am. These services use more traditional worship settings from Evangelical Lutheran Worship.
Visitation
Our Pastoral staff and lay leaders have made a commitment of meeting the spiritual needs of not only our congregation, but also the community surrounding our campuses. We regularly make visits to area hospitals, nursing homes, rehab centers, hospice centers, and the home bound to offer prayer, communion, and support.
If you know of someone in need of a visit, please contact our East Mesa office at (480) 984-5555.
October 2021Newsletter Revised
What is a Lutheran?
Lutherans are Christians who follow the teachings of Martin Luther. Luther was a German theologian who realized that there were significant differences between what he read in the Bible and the practices of the Roman Catholic Church at that time. In October 31 of 1517 Luther wrote to challenge these practices that came to be known as The 95 Theses. His hope was that the church would reform its practice and preaching to be more consistent with the Word of God as contained in the Bible.
Today, nearly five centuries later, Lutherans still hold to the basic principles of Luther' s theological teachings:
We are saved by the grace of God alone; which can only be earned through faith – not by anything we do.
The Gospel is the norm for faith and life – the true standard by which teachings and doctrines are to be judged.
Over the years, different Lutheran church bodies have been established and organized to meet the needs of Lutherans in communities and nations all over the world. Our Savior' s is a congregational member of the Evangelical Lutheran Church in America (ELCA), which is the largest Lutheran group in North America. The ELCA is part of a reforming movement within the whole Christian church. As a part of practicing our faith, we have engaged in ecumenical dialogue with other Christian church bodies which has produced cooperate "full communion" agreements (sharing common convictions about theology, mission and worship) with several other Protestant denominations including Episcopalians, Presbyterians, Methodists and the United Church of Christ.
We believe that we are called and empowered by the Holy Spirit to live out our lives in service to the world. Through acts of love and justice, worship and witness, we share God' s boundless love with the world. Through Christ, we are united with other Christians and we recognize a wide fellowship of churches. We work alongside them in ecumenical ministry and service.
Our Lutheran Faith is a faith tradition that is open to all, regardless of background. We welcome you to learn more about our church and find out how we can help you along life' s path.